Learn to fly at Sundance Flight Academy. Feel the excitement of lifting off the ground and the exhilaration of soaring the skies with complete confidence to pilot a private aircraft. Accomplish something adrenaline-charged and unique. Travel in your style on your schedule. Make a career in the skies. Your first step is a Private Pilot License. Start today! Contact us to schedule your Discovery Flight.
Contact Sundance Flight Academy
13000 N Sara Road
Oklahoma City, OK 73099
405-373-3886 opt 3
flightacademy@sundanceairport.com
8 a.m. to 8 p.m. CT
Select an option below to learn more.
airline_seat_recline_normal How long until I can fly by myself?
Most students make their first solo flight after they complete 8 to 12 hours of flight with a Certified Flight Instructor.
Afterwards, the student mostly flies without a CFI critiquing every movement the student makes. As a bonus during this time the instruction cost goes down since less time is needed directly interfacing with the CFI. Our CFIs always work closely with students ensuring that the student and their flight plans are ready regardless what stage of instruction they are.
done_all What does it take to get a Private Pilot License?
Read the FAA's Steps to Becoming a Pilot.
• 40 hours flight time total
• 20 hours instruction time in the plane
• 3 hours of IFR/under-the-hood work training
• 3 hours dual cross country training
• 3 hours night time training, including a night cross country
• 10 hours of solo flight time
• 5 hours of solo cross county time
• Must pass a written test
• Must pass a pre-solo written test
• Must pass an Oral test, and Check Ride/Flight test to get the private rating
airplanemode_active Aircraft & Equipment
Piper Cherokee 140/150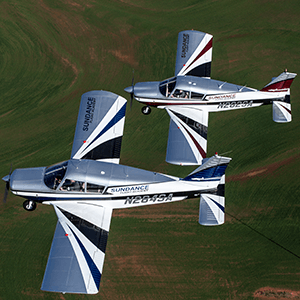 Sundance Flight Academy training aircraft are fully-restored, Piper Cherokee 140 and 150. This model of aircraft was designed by Piper with training in mind. It's all-metal, piston-powered, light airframe and low wings and tricycle landing gear configuration make it ideal for a pilots new to the skies.

Redbird FMX Simulator
Hone flight experience and knowledge through simulated exercises with Sundance Flight Academy's state of the art Redbird FMX Simulator. Redbird simulators set the standard of simulated flight instruction. The full-motion cage simulator features wrap-around screens to produce the most realistic simulated flight possible. Sundance Flight Academy can configure its Redbird FMX flight simulator for a single-engine Piper or a multi-engine Piper.
group Training
Discovery Flights
Experience first-hand how flying is done with hands-on experience during a 30-minute Discovery Flight. Lift off with one of our FAA Certified Flight Instructors for the experience to certainly instill the desire to fly.

Private
Sundance Flight Academy offers training for FAA Part 61.109, more widely known as training for a private pilot's license. Flight instruction is typically 40 hours minimum of flight time that includes 20 hours with an instructor and 20 hours of solo time.

Instrument
Already have a private pilot's license and want to get your Instrument Rating? Sundance Flight Academy offers training for FAR Part 61.65. Instruction is 130 hours of total time that includes 40 hours of instrument training.

Ground School
Any Sundance Flight Academy Certified Flight Instructor (CFI) or Certified Flight Instructor – Instrument (CFII) is available to conduct ground school to future pilots. It is at the discretion of the student whether or not they want to use the CFI or CFII for ground school. According to FAR Part 61, there is no minimum time required for ground school, however there is a list of information that must be covered by the CFI or CFII.

Cost of Training
Sundance Flight Academy keeps its costs competitive among other flight schools within Oklahoma.

Pricing by Equipment Hour
 
Per Hour
10 hr. Block
20 hr. Block
Cherokee 140/150
Garmin 650
IFR Certified
$150 /hr.
$145 /hr.
$140 /hr.
FMX Redbird Simulator
$50 /hr.
$45 /hr.
$40 /hr.
Discovery Flight Pricing
30 minute Discovery Flight $95
assignment_ind CFI Services
Flight Review
FAR Part 61.56 mandates Flight Review minimums. The hours spent for a Flight Review will be determined by the student and the instructor.

Instrument Proficiency Checks
FAR Part 61.57 mandates requirements for an IPC. The hours spent will be determined by the student and the instructor

Safety Pilots
Our instructors are available to ride along as safety pilots for instrument work. Whether you haven't flown in a while, or simply want the comfort of having an Instructor refresh your skills, our instructors can help you get back to the skies.
flight_takeoff Airplane Rental
Pilots may rent Sundance Flight Academy's aircraft based on availability for at least a one hour minimum. Before pilots may rent the aircraft, they must pass a check-ride with one of our CFIs which is scheduled at the instructor's discretion.
Airplane Information - Piper Cherokee PA-28-140/150
Weight and Balance
• 2,150 lbs = Maximum Gross Weight
• 1,340 lbs = Basic Empty Weight
• 594 lbs = Payload With Standard Fuel
• 8.4 gph = Fuel Flow @ 75% Power
V-speeds
Vx – 74 MPH = Best Angle of Climb Speed
Vy – 85 MPH = Best Rate of Climb Speed
Vbest l/d – 82 MPH = Best Glide (lift /drag), flaps up/down
Vs – 64 MPH = Stall Speed, normal configuration
Vso – 55 MPH = Stall Speed, landing configuration
Vfo – 115 MPH = Maximum Flap Extension Speed
Va – 129 MPH = Maneuvering Speed (at gross weight)
Vno – 140 MPH = Maximum Structural Cruising Speed
Vne – 171 MPH = Never Exceed Speed
Cost of Rental
Sundance Flight Academy rents its aircraft for $150 per hour (one hour minimum) and "wet," meaning the plane is fully fueled and cost of rental includes fuel. Should your flight burn more fuel than the average fuel burn for your rented time, additional fueling charges may apply. Discount rates are available for lump-sum rental time purchase.

Rental Insurance
Insurance requirements to rent Sundance Flight Academy aircraft are Liability: Per Occurrence/Per Passenger $500,000/$50,000 and Aircraft Damage coverage of $100,000. This insurance may be purchased through organizations such as: AOPA, EAA, and Acemco.
shopping_basket Pilot Supplies
A selection of popular pilot supplies is available at the Sundance Airport front counter. You may also purchase Sundance Airport gear at the Sundance Airport online store.
We want CFIs!
Popularity for Sundance Flight Academy has exploded and we're searching for contract CFIs to help with the influx of student pilots within our program. Email us to begin the process flightacademy@sundanceairport.com.
Competitive pay. Flexible schedules among instructor and students. Completely refurbished aircraft. FMX Redbird Simulator available onsite. Growing, thriving airport.
Join our team that helps student pilots' dreams turn into realities.